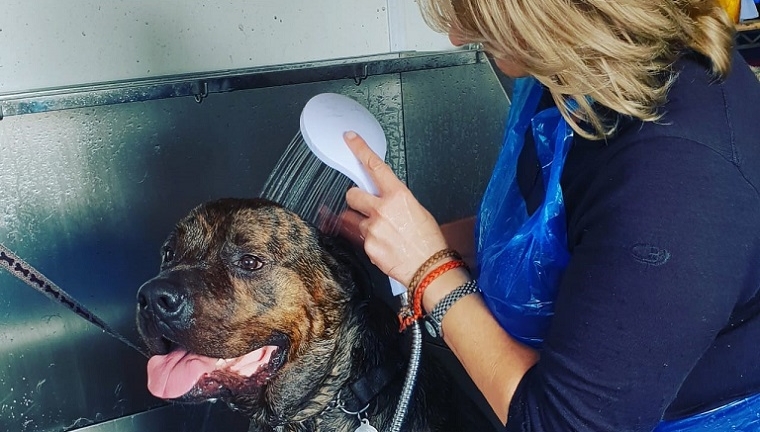 5 Things You Didn't Know About Tails In The City
We've thrown together a quick list of things you may not have known about Tails in the City, Liverpool's biggest dog day care centre. In particular, these are things we're really proud of. And we're not digging for compliments but we'd love to hear what you think about these fabulous facts!
1. We train our staff to industry recognised animal care standards
When we employ new staff, we make sure they have animal care qualifications already, or we pay for them to train with us. For example, at the moment we have four Tails in the City staff working towards their City and Guilds Level 2 Diploma in Animal Care. As a result our staff acquire the specialist skills they need for working with our clients' dogs. This includes proficiency at handling, health, safety and well-being.
2. We're committed to providing animal care career opportunities to young people
In all honesty, we feel really proud of what we've achieved at Tails in the City. After all we're now the biggest dog day care centre in Liverpool. And we want to share our success by creating as many opportunities as we can for the next generation. In particular we want to let them know what great job satisfaction there can be working with dogs. So to do this, we take on apprentices. Additionally, we offer work experience to school pupils or as part of the Duke of Edinburgh. We're up for anything that gives a young person an insight into a rewarding career.
3. We rehabilitate nervous or antisocial dogs
Notably, we welcome dogs who are nervous of people, other dogs or new circumstances. Indeed, our staff are trained in supporting dogs to familiarise them slowly, step-by-step with whatever they fear or avoid. We've had some great successes recently.
For example George, a German Shepherd Cross who started coming to Tails about a month ago. He was very wary of strangers so we ran a programme of gradual exposure to the staff to build his confidence. When he arrived at the centre each day, we put him in an area with other dogs he's comfortable with. Then we sent a member of staff into the area but making sure they faced away from him with no eye contact. This feels less confrontational for a fearful dog. Then we let him watch the staff member pet and fuss the other dogs. This demonstrated to George that there was no threat from staff members. Over a month, he built up his confidence and is now comfortable with all Tails staff.
If your pet needs extra support we are happy to provide this as part of our daily dog day care service at no extra cost. Just make sure you let us know so we can help.
4. We raise funds for community initiatives
As well as providing a range of dog day care services, Tails in the City is committed to supporting community initiatives as part of our corporate social responsibility strategy. For example, we support Dream High, a local hub for new and upcoming entrepreneurs in the region. In particular, they offer free, unlimited bespoke business support and advice. Tails in the City also recently raised over £350 for the Shetland Animal Rescue in Halewood by running the 5K Liverpool Santa Dash.
5. We've launched a new dog wash service
Finally, in response to demand, we've launched a wash service for our doggy clients after installing warm showering and drying facilities. If your dog comes home with a muddy coat and paws this means they've enjoyed a fun day at Tails. But now, before you pick your dog up or we drop them home, we can give them a wash and dry. Not only do you get a clean dog, but your pet will have lots of extra fun having bath-time with their mates. During sunny weather, we'll let them dry outside naturally.