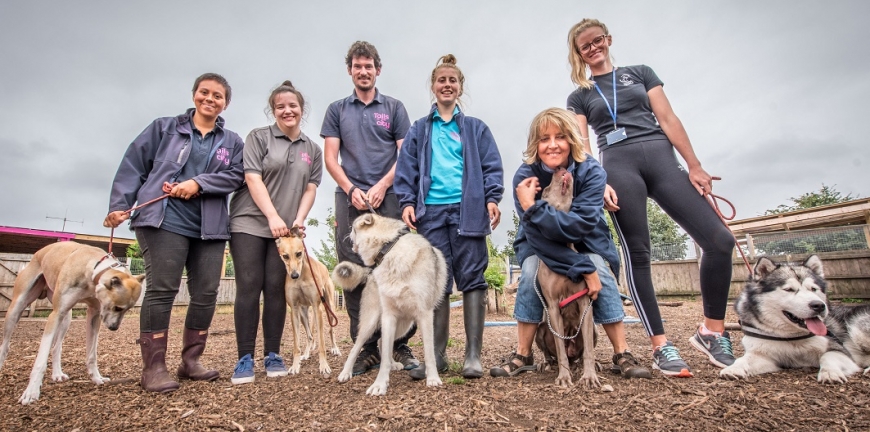 Tails in the City signs up to Apprenticeships creating opportunities for region's young people
Tails in the City  has pledged its commitment to high quality industry standards and the region's young people by creating seven apprenticeship positions.
Tails in the City, based on Sefton Street in Liverpool, provides day care to more than 50 dogs a day.  The company was established 5 years ago and employs 8 staff.  Now it has joined forces with Total People Limited to bolster skills through qualifications in Animal Care and Welfare.
New skills
The Level 2 Apprenticeship in Animal Care will provide a combination of workplace training and study. Total People says it will equip apprentices through hands on experience, learning new skills and gaining a nationally recognised qualification. Alex Mould, from the Apprenticeship provider says:
"Tails in the City is committed to nurturing talent as demonstrated through the seven apprenticeship positions. As the apprentice assessor, I regularly visit the trainees on site to review skills and find ways for them to gain new ones.  Each candidate will build a portfolio of work as evidence towards their Level 2 NVQ qualification. Once achieved, this qualification is a great basis for their future career and training."
The cohort of seven includes two existing staff from Tails in The City. In addition, there are five new apprentices that Total People advertised for and recruited.   All seven will be working towards nationally recognised qualifications on their apprenticeship.  Most importantly, they will get lots of practice on the job. Meanwhile, they'll develop the skills employers want, from timekeeping to taking responsibility.
Apprenticeship opportunities for local people
Julia Henderson, owner of Tails in the City, has been providing professional pet services since 1999. Her home-from-home boarding and dog walking services were very popular, hence leading to the establishment of Tails in the City day care centre in 2013. She explains:
"The owners of the dogs in our care trust us with their beloved pets. Consequently we've recruited a team of apprentices who each demonstrated the ability and desire to work with animals.  As a growing business providing local young people with opportunities is a priority. As a result of gaining experience, skills and qualifications, the apprentices will establish strong links with the dogs they look after. Growing our team by nurturing their animal skills will boost what we can offer. Furthermore, it will help us stay at the forefront of the dog care industry. This is a responsibility we take seriously."
Working with animals is my dream
Julia is also studying towards an NVQ level 3 in Animal Care and Welfare. She is joined by the apprentices and staff working towards their NVQ Level 2. Apprentice Nathalie told us:
"It was the best news ever when I heard I had been selected to do the apprenticeship. Working with dogs and animals is my dream.  I don't think I would have been suited to going to college five days a week.  Or staying on at school to do 'A' Levels. Therefore for me, working with animals hands on, and gaining a qualification at the same time is a dream come true."
Siobhan Saunders, chair of LCR Apprenticeship Hub sees Tails in the City as a role model for other growing businesses in the region:
"Tails in the City is a great example of how businesses can use apprenticeships to increase staff whilst underpinning the quality of their services. They are clearly committed to customers. Furthermore, they want to give something back to the region by creating opportunities for young people. It's organisations with this kind of client and community-focussed philosophy that will shape long term success in the region".
Tails in The City is the leading dog crèche in the city of Liverpool.  They provide safe and stimulating environments for dogs, alongside puppy and dog training. The new staff will see the company expanding whilst maintaining standards.