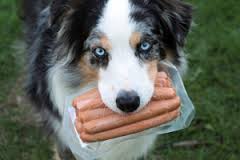 Dog Creche Crashes In On The Foodie Fair
If you're heading for the Liverpool Food and Drink Festival at Sefton Park this weekend, don't let your dog miss out on some fun too!
Apparently there were a few too many sausages stolen last year so the organisers can't allow your furry friends to accompany you (actually it's due to hygiene reasons).  And of course guide dogs will be admitted, but for everybody else help is on hand and you can still enjoy the show whilst your dog gets some fresh air.
It just didn't seem fair to us that your dogs would have to stay at home so we're staging a dog creche for the day.  Whilst you fill your belly and savour the wine we will entertain your dog and let them join an organised walk.
During the weekend of the festival we expect to pamper up to 120 pooches.  Places will be in demand so get in touch to book a slot.  We don't expect you pay us, but if you'd like to put your paw in your pocket there is a suggested donation of £5 to Clatterbridge Cancer Charity.
We will be running four sessions on Saturday and the same on Sunday; starting at the following times and lasting approximately 1hr 45mins:
10.30am
12.30pm
2.30pm
4.30pm
Book by email: [email protected] Complete an online registration form here and ensure you let us have a copy of your up to date vaccination certificate when you drop your dog off.