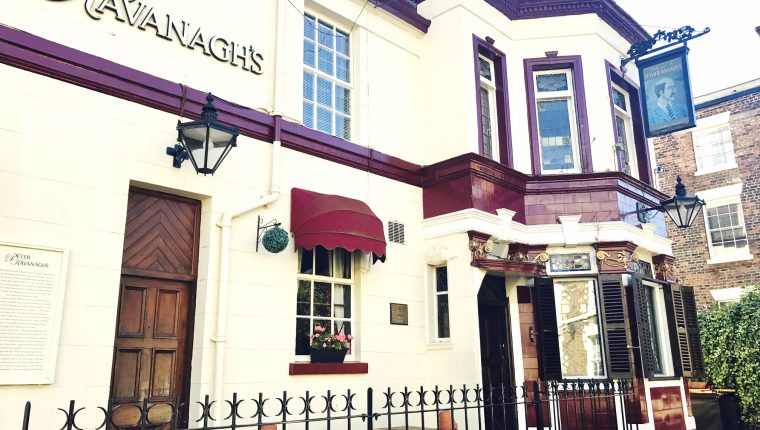 5 Dog Friendly Pubs in Liverpool
Everyone enjoys a sociable drink with their best friend, and Liverpool is full of great watering
holes that happily cater for canine companions. Autumn approaches and there's no prettier
season for invigorating dog walks, so when you're in need of refreshment try one of our favourite
Liverpool dog-friendly pubs.
The Caledonia, Caledonia Street L7
Affectionately known as The Cale, this beautifully cozy and ornate pub is always full of life and a
friendly face or two. The owners of this Liverpool institution are passionate dog-lovers, offering
great beer, craft ales, regular live music and home-cooked food, with many a pooch to be found
curled up under the tables.
Peter Kavanagh's, Egerton Street L8
A splendid back street local, this gem is situated in the Georgian area of Liverpool and has been
identified by CAMRA as having a historic interior of national importance, with murals by Eric
Robinson adorning the walls. It boasts stained glass windows with wooden shutters and two
snugs with wooden benches – each housing carved armrests, rumoured to be caricatures of
Peter Kavanagh. With regular guest beers and irish music, well-behaved dogs will always be
made welcome here.
Three Piggies, Allerton Road, L18
Situated on the bustling Allerton Road, Three Piggies provides coffees & home-baked cakes, pub
food, great real ales & craft beers, world wines & beautiful cocktails. It's not a restaurant so you
can't book in advance, but the food reviews speak for themselves and they are more than happy
to accommodate well-behaved canines.
Marino Lounge, New Brighton CH45
OK not strictly Liverpool but not far! We love it so much in here, we had to include it in our top 5.
Nestled in Marine Point on the North Wirral coast, the Marino Lounge has amazing views
overlooking Marine Lake and beyond, so is especially popular when the sun comes out. The
interior is homely and a little eccentric, and with board games, daily newspapers and a free
neighbourhood book swap, once you cozy up in here with your dog, you won't want to leave.
Unit 51, Jamaica Street L1
Situated right at the heart of the Creative Quarter in Liverpool, just a few streets from Tails in the
Park, Unit 51 offers high quality food and drink in a welcoming community atmosphere. They
take pride in sourcing a lot of their food and drink locally – which includes beers like Toxteth IPA
and Penny Lane Pale from Mad Hatter Brewery. Great quality coffee is hugely important to Unit
51 too – they pay serious attention to beans, blend and technique, so whatever your poison, pop
in with pooch.
Baltic Fleet, Wapping, L1
A Liverpool icon steeped in mysterious and fascinating history, the Baltic Fleet is immediately
noticeable because of its amazing shape and Georgian architecture. Just a few minutes' walk
from Tails in the Park, it is well worth a visit if you have time after calling in on us. Dating back to
the mid 1800s, it is part of Liverpool's heart and soul, serving traditional pub food, local ale and
perfect Scouse.